The summer is still in full swing but occasionally you can already catch a glimps of the appraoching fall.
If you want to add more moments of inspiration, fun and presence to the remaining summer, you can now get My Summer of Presence 40% off until August 25. You only need to add summer-joy as coupon code in the webshop.
Here's the lowdown what's waiting for you in the Summer of Presence:
Welcome to My Summer of Presence!
Do you want to make the most of this summer? Live life to the fullest?
The summer is usually a season of vacation, fun and joy.
You can feel the warmth of the sun on your skin.
You are playful.You are in a good mood. You feel carefree.
I am inviting you to make your summer even better by adding conscious moments of presence to your daily life.
5 minutes of presence for 30 days
I put together 30 daily practices of up to 5 minutes. (If you only got 2 minutes, it's also fine.)
The idea is to use the summer and its sunny spirit to make it fun and easy to practice presence on a daily basis. Every morning you will receive an email with an inspiration or practice that encourages you to be fully yourself.
You can choose the time of the day when you practice. You can play around with the activities and explore what brings you the most energy and presence.
The more you are yourself, the more you will enjoy the summer.

Practice brings Presence
Some say practice makes perfect. I say practice brings presence.
And confidence in yourself.
Trusting what you feel is probably the most important thing to navigate through life with purpose, joy and ease.

Are your ready for it?
Sign up now and join My Summer of Presence.
The My Summer of Presence programs are available until August 22 (30 days) and September 12 (10 days), respectively.
Join in for 30 days of inspirations and 5-minute practices of presence.
To get started right away, go to the webshop and sign up.
30 days  – 30 emails with brief and effective practices and inspirations.
Or you can also choose the 10-day program if 30 days is too long for you.
What kind of daily practices will you get?
Being present is a choice. The ways how to get there are manifold. 
I draw from a wide range of attention and awareness-raising tools that boost energy level and strengthen human qualities that make life worth living.
For My Summer of Presence, I share some of the tools I use in the work with my clients. They are especially designed for bringing presence in a fun and playful way into your daily life. They include: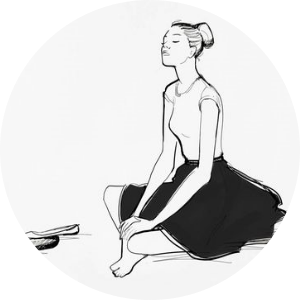 Bridges to Presence
Exercises done with the intention of boosting your presence, energy level & awareness.
Contemplation
WRITING – descriptions, sensations, mind maps – always in connection to a physical aspect to boost your presence.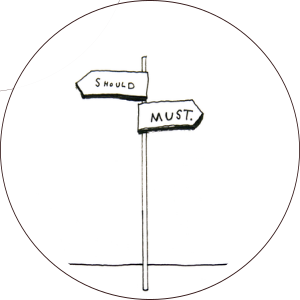 The Emotional Compass
Checking in with your emotions and using them as a guide to be able to navigate through life with more ease and purpose.
Breathing
It's so fundamental to being alive that it deser
ves it's own category even if you could put it as part of the bridges to presence.
Food for Thought
Inspirations with a prompt to make it your own and integrate an aspect of it in your own way in your own life.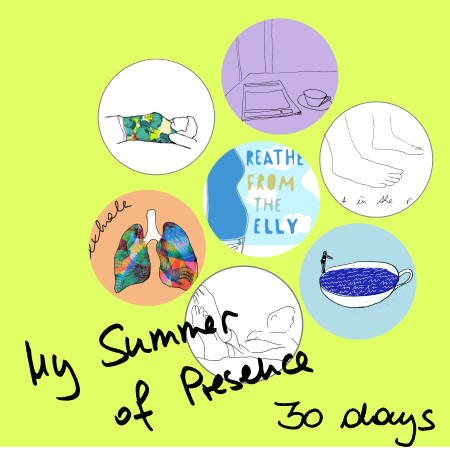 My Summer of Presence is available at a small amount per day.
The 30-day program is available for €39.
The 10-day program is available for €15.
With the VOUCHER CODE summer-joy you now get 40 % off either program.
Taking this money into your hands alone doesn't get you what you want. To make it real for you, you will have to invest some more. And to make sure you don't spend money without any benefit, I want to point out that you'll also be investing your time, energy and attention.
The daily practices are designed to be easy to integrate into your life. They require 1-5 minutes to do. But you'll also have to read the email and get the instructions. So expect that you'll invest about 7-10 minutes every day to make the most of your summer.
A small investment with great potential. 😉
I believe in your potential!
Get My Summer of Presence